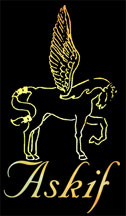 Fever-dreams
ETIENNE MULLER
Dreaming the old fever-dreams again:
grey imaginings, waning on waking,
defying the studied parameters
of my fretful comprehension.
Wily orientals trapping dreams in reeds
catch subtle thoughts, while
redskins weave their feathers into grasses
to net the sleeping-magic.
My dreams are bound in iron:
rattling the fetters that bind them
they sound their brittle tones through
the windy vaults of my unconscious.
Dreaming the old fever-dreams again:
confounding fitful fancies, foiling sleep.
I'm shaking out my chains
to make room for new dreams.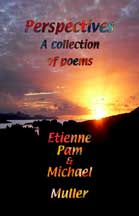 Autumn day
PAM MULLER
She turns her face to the autumn sun
its warmth highlighting auburn hair
now sprinkled with silver
a prelude to the Winter years
Perched on a standing stone
one of eight in a grassy circle
she gazes outward to the mountains
listening to echoes of past times
In the kind noon small birds sing
from every tree, crickets chirp in the rushes
a soft breeze moves among the sparkles
of late dewdrops in the sun
The woman sits and listens
breathing in the golden day
the rustle of dying leaves whispers "October"
she will remember this day in mid-winter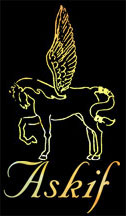 The cloak of pain
MICHAEL MULLER
There was weeping when the child
donned the cloak of pain:
the curse of generation,
as we leave it, it remains;
pursuing us down bloodline,
intangible but real,
so following the shadow-scent,
it dogged the child's heel.
For the child cast a shadow as it flew
and falling through the heavens
into flesh, was made anew.
So its people swaddled it
and hid away its nakedness,
with drooping hood,
long sleeve and ragged hem;
its motion clumsy,
and its face was never seen again.